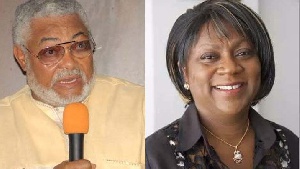 The seeming implosion in the National Democratic Congress (NDC) appears to be intensifying by the day, barely nine months after it woefully lost the 2016 general election.
Even before the details of the Kwesi Botchwey Committee findings on what led to the defeat become public, key figures in the party are at one another's throat over the party's founder, Jerry John Rawlings.

Many in the party have accused Mr. Rawlings of contributing to its defeat because he had continuously leveled allegations of corruption against officials of the erstwhile Mahama administration.

While some believe the former president's allegations need to be investigated, others have resorted to attacking the person of the party's founder.

In the midst of accusations and counter-accusations, an NDC group in the Volta Region – Integrity Against Corruption – has lambasted former Deputy Chief of Staff, Valerie Sawyerr and some key figures of the party for disrespecting the "moving spirit and energy of the party."

"Valerie Sawyerr's article in which she attacked former president Rawlings for constantly attacking the NDC, while turning a blind eye to the shortfalls in the NPP government, is nothing but a tactical move to overshadow the truth.
"Unfortunately, the word corruption seems to have become a taboo word within certain circles of the NDC, especially if it comes from the lips of former President Rawlings.

"His mention of the word corruption recently attracted and provoked the corrupt elements of our great party, led by Valerie Sawyerr, who was supported by her grand corrupt uncle, Obed Asamoah, and their cohorts," the group claimed.

At a press conference at Agbozume in the Ketu South municipality of the region, the group's spokesperson, Daniel Hamenu, lambasted Dr. Asamoah, former chairman of the NDC, for describing former President Rawlings as corrupt and challenging his position as the founder of the party.

"Is he now discovering from his law textbooks about who a founder is and what makes him a founder? I thought our former chairman wanted to enjoy a private life," Mr. Hamenu queried.

He continued, "Where was Dr Asamoah and all these people when the party was looking for legal luminaries to defend us in difficult moments? and we wondered whether to liken his action to a "vulture or a latter day saint."
Corrupt Journalist

Integrity Against Corruption also described the editor of the Al hajj newspaper, Alhaji Bature, as a self-acclaimed saint of the media and the "most corrupt journalist of the 21st century."

It underscored, "The party is at the crossroads, and the situation can be salvaged when the corrupt figures in the party are perpetually rooted out.

"Insulting former President Rawlings, whose integrity has propelled the party over the years, would only result in deep-seated fracture in the party.

"We believe strongly in the values and principles instituted by the founder, JJ Rawlings, as guiding principles vital for perpetuating good governance, rule of law and justice…."We want to put it in simple language: No Rawlings, no NDC."