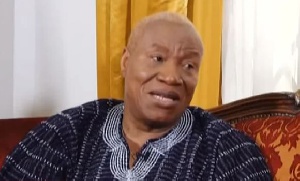 A presidential hopeful of the opposition National Democratic Congress (NDC), Professor Joshua Alabi has suggested to government to consider elevating regional ministers to cabinet ministers, so as to give them better control of their jurisdiction.
The former UPSA Vice Chancellor and onetime Greater Accra Regional minister posited that regional ministers can do more to champion progress and development in their respective regions if they are elevated to that level in governance.

"A regional minister must be made to be responsible for his region. So you should know everything about Agric in your region, and the resource to do that. You must know everything about trade in your region and for that matter when we are meeting you should come and present a paper as to how you think you can move your region.

"And for that matter, I'll be proposing if I'm President today that regional ministers must be made cabinet ministers. If a regional minister is made to be responsible for the work that he's supposed to do; like being resourced, I have the drains, I have my budget, I'm going to ensure that its done,…then you move on. When I was a regional minister, I was almost everywhere in Accra inspecting drains and making the sector ministry know that we have a problem, it's quite different from me having the resources." he told Accra-based Citi FM in an interview Friday.
59-year old academic, Prof. Joshua Alabi is in the Presidential mix of the main opposition National Democratic Congress(NDC) that has powerful forces like Legislator for Nadowli Kaleo, Alban Bagbin, former Chief Executive of the National Insurance Health Authority (NHIA), Sylvester Mensah, and Dr Ekow Spio Gabrah among others.

The former President, John Mahama is yet to declare his candidature for the presidency in 2020, although he's very active on campaign platforms of the opposition party.

For him[Mahama], the party's restructuring and healing process is his focus now, ensuring that the NDC could overcome the shocks from the last election and win the next polls.