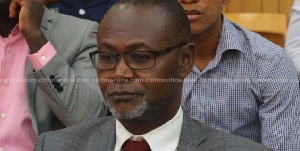 The 94 Minority MPs who have endorsed former president John Mahama ahead of the flag bearer race of the main opposition National Democratic Congress (NDC), did so because they were shaken by the prospects of Prof Joshua Alabi in the race, Nii Amasah Namoale, former MP for La Dadekotopon, has said.
According to him, Mr Mahama has no new ideas for the party and the country, except those he had which did not help the NDC in the 2016 elections.

Mr Namoale, who dropped out of the race to support Prof Alabi, explained that the message of the former Vice-Chancellor of the University of Professional Studies, Accra (UPSA) gives hope and dignity to all members of the NDC contrary to that of Mr Mahama.

Builsa South MP, Dr Clement Apaak, on Tuesday said on Asempa that out of the NDC's 106 MPs, 94 have thrown their weight behind Mr Mahama's comeback.

It has been suggested that the MPs have even formed a group called MPS4JM (Members of Parliament for John Mahama) with the full support of their constituents.

But speaking in an interview with Accra News' Katakyie Obeng Mensah on Wednesday, 1 August, Mr Namoale said the 94 MPs did so out of panic.
He said: "Mr Mahama has not regretted his actions that resulted in our defeat in the elections. He starved the grassroots of the party and he is going to do the same thing in the unlikely event that he wins the flag bearer race," he said.

"What new thing is Mahama coming to do? Who was the leader of the party when we lost the elections in 2016, it was President Mahama, and, so, why should we bring him back?

"He surrounded himself with some appointees who caused the downfall of the NDC. And these same people who are in parliament are claiming that some 94 of them have endorsed Mahama.

"I dare them to public the list of the 94 MPs, the names and the constituencies. This is a psychological operation on the minds of the weak. Alabi's message is a message of hope and dignity to our branches", Mr Namoale said.