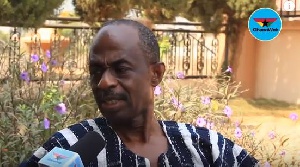 General Secretary of the National Democratic Congress (NDC) Johnson Asiedu Nketia has lauded government for the Nation Builders Corps policy.
But, he is worried about the implementation of the policy.

The Nation Builders Corps (NaBCo) is a government initiative aimed at addressing graduate unemployment in Ghana.

The programme was launched by President Nana Addo Dankwa Akufo-Addo on May 1, 2018.

Central to its objectives is to engage the raw talents of unemployed graduates and equip them with skills through a process of value addition and training.

The scheme will this year employ 100,000 graduates under seven modules, namely; Educate Ghana, Heal Ghana, Feed Ghana, Revenue Ghana, Digitize Ghana, Civic Ghana and Enterprise Ghana.
Placement in the NaBCo will last for a period of 3 years under a stipend of GH¢700 every month.

The NaBCo is opened to all Ghanaians who have discharged their national service obligations.

Speaking on Okay FM's 'Ade Akye Abia' programme, he explained that the policy itself sounds good but fears for its successful implementation.

"There is nothing wrong with Government creating employment avenues for the unemployed Ghanaian Youth, but if you are unable to sustain the programme, the country is back to square one", he explained.

"My other worry is why should the NPP start claiming applause when indeed actually the policy has not been implemented yet, we saw same in the Kuffour administration.


"They should wait for the programme to be implemented and successfully executed before they start claiming applause for it", he insisted.

The NDC scribe on the whole described the programme as a good policy adding that he believes it will solve the country's unemployment situation.

How To Enroll

To enrol onto the NaBCo, prospective applicants would have to log on to the programme's website, www.nabco.gov.gh to fill out application forms at no cost or charge.
According to President Akufo-Addo, the online application is necessary to optimise efficiency in the application process as well as serve as an opportunity to check for other available national data basis to avoid fraud.

The application process begins on June 1, 2018 and ends on July 1, 2018.

Selected applicants would be deployed to commence work by August 1, 2018