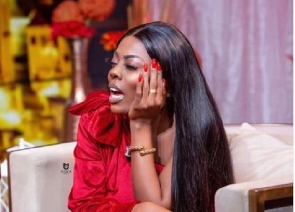 Popular media personality Nana Aba Anamoah has shared her thoughts about the Meek Mill saga, which has been topical in the media space lately.
According to Nana Aba, she is extremely certain that the president knew nothing about Meek Mill's video shoot at the Jubilee House.

Officials at the presidency, including President Nana Addo Dankwa Akufo-Addo, have been subjected to immense backlash on social media following the release of Meek Mill's video, where he was seen getting cozy at certain unauthorized places at the Jubilee House.

In the said video, the American rapper was spotted at different locations at the Jubilee House, from the frontage, through the main corridors, in the main conference hall, at a point positioned behind the presidential podium, and later in a sitting area rapping.

Some individuals who have been appalled by the development have since described it as a complete desecration of the seat of the president.

Others have launched a series of attacks on the president for enabling the act, while intermittently firing shots at Meek Mill.
But Nana Aba thinks that the government should be given some slack.

Wading into the discussion on Twitter, the popular broadcaster strongly believes that Meek Mill took those shots at the blind side of the presidency.

"I can bet my last coin that the President knew absolutely nothing about that shoot," she wrote.

She did, however, insist that, while Meek Mill's act is repugnant, the people who authorized it would not face any consequences.

"I however, doubt anything will happen to whoever authorized it (if they decide to investigate how Meek Mill desecrated the jubilee house that way)," she added.
Read the post below:


I can bet my last coin that the President knew absolutely nothing about that shoot.

I however, doubt anything will happen to whoever authorised it (if they decide to investigate how Meek Mill desecrated the jubilee house that way).

— nana aba (@thenanaaba) January 9, 2023
EB/BOG