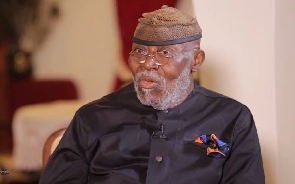 Ghanaian statesman and politician, Dr. Nyaho Nyaho-Tamakloe, has refuted assertions that President Nana Addo Dankwa Akufo-Addo is an arrogant person.
According to him, the president only gets disoriented when he is not happy about happenings around him.

Speaking in a JoyNews interview monitored by GhanaWeb, Dr Nyaho-Tamakloe added that the president appears to be conceited because of his demeanour when things are not going well.

"I won't say Nana is arrogant. The word arrogant really is quite different when I look at Nana Addo. Nana Addo is not arrogant.

"Nana Addo, when not happy with issues, gets confused and tries to massage his ego in such a way that you will think he is arrogant. He is not arrogant; I don't think so," he said.

Also, Dr Nyaho-Tamakloe said that the country is currently in a bad state because the people around the president are not giving him good advice.
"What is happening now is that those who can tell Nana Addo that my brother, you are going the wrong way, are not around. That is where the problem is.

"Because some of us cannot understand some of the decisions he takes. There are people outside the government who can advise him if he consults them ... one of such people is Dr Wereko Brobby. These are people who will tell you as it is but there are no people like this around the president," he said.



IB/BOG