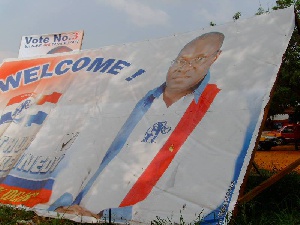 Tue, 11 Nov 2008 Source: GNA
Accra, Nov. 11, GNA - Regardless of who wins in the second round of the presidential debate in Tamale tomorrow, Ghanaians must realise that the December election is not a war to be waged with bullets and sticks, a New Patriotic Party (NPP) official has said. Dr Arthur Kennedy, Chairman of the Communication Committee of the Nana Akufo Addo Campaign Team, said the presence of all four party leaders on the same platform should rather inform Ghanaians that they were one people with a common destiny.

He said this in a statement signed by him on Tuesday on the eve of the debate, which is being organised by the Institute of Economic Affairs (IEA) for the four main political parties, the National Democratic Congress (NDC), the NPP, the Convention Peoples Party (CPP) and the Peoples National Convention (PNC). The first round of the debate was held in Accra on October 28, 2008.


According to Dr Kennedy, disagreements about the leadership and future of Ghana should be settled with ballots and not bullets, sticks and stones.


Commenting further on the debate, he said, the guide to event should be based on the premise that elections were about the future and not the past thus the electorate should judge the candidates by what they would do to make the future better. He said the election should also be about the individuals and the challenges that they face and how aspiring leaders could help them to build a better future for themselves and their children. "It is not about the politicians and their looks, their styles, their failings or their tendencies. It is about you and Ghana", he said. He called on Ghanaians to remember that peace was indispensable to the nation's development and to observe the candidates and their commitment to peace.

"Those who would destroy this country in order to lead it do not deserve your vote," he added. Dr Kennedy said many people after the first round of the debate weighed in on who was best dressed, who won on style, who won on substance and many other aspects.


"Who do voters want as their President, a man of style or a man of substance? Does Ghana need style or substance at this critical juncture in her history? Just like how a bank evaluates borrowers, we should look at past performance as a guide for the future. "Whenever any of the candidates talks about the future, think of your children and who can make their future better. The next day, whenever you hear a station or a newspaper proclaim a winner, think of who in which party owns it and you can judge the opinion better," he said. Dr Kennedy said whenever the leaders exchanged courtesies or pleasantries Ghanaians should see that as a score for the nation.

Source: GNA