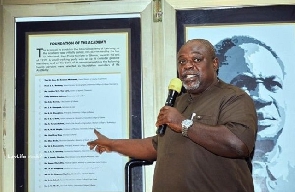 Former presidential spokesman, Samuel Koku Anyidoho, has commented on the ragig debate on the controversial filming of footage from the Jubilee House by American rapper Meek Mill late last year.
Anyidoho described the episode as an embarrassment for the president and the nation at large and blamed the faux pas on officials at the presidency who should have enforced necessary protocols for visitors at the Jubilee House.

Meek Mill visited the presidency, after his performance at the Afro Nation concert in Accra, meeting with President Nana Addo Dankwa Akufo-Addo at the insistence of his daughter, Gyankroma.

Barely a week after his return to the States, the rapper released a promo to an upcoming video which contained footage from areas filmed outside and within the Jubilee House.

The video attracted massive backlash on the presidency and government at large, with critics on traditional and social media questioning the moral and security implications of same.

"Someone slept on their job and has created an embarrassment for the president and the country as a whole.
"For example, from what I saw, the guy was standing behind the presidential lectern.. and the Coat of Arms, which is usually for the exclusive use of the president, is in front of it. Who gave him that opportunity?" Anyidoho asked.

GhanaWeb checks show that the lectern Mill stood behind was that of "THE PRESIDENCY – REPUBLIC OF GHANA" which is used by all guests to the presidency. The president exclusively used one with the label "PRESIDENT OF THE REPUBLIC OF GHANA."

Anyidoho further explained that from his understanding of the viral clip, the rapper must have completed his formal engagement with the president before engaging in the other acts that should not have happened.

"The president must have already met him in his visitors or conference room and this boy descends and someone overlooks and allows him to do what he did," Anyidoho stated on Accra-based Okay FM (January 10, 2023).

The rapper issued an apology to Ghanaians and the presidency after footage of the Jubilee House was contained in a video he was set to release.
He deleted the promo he had posted on Instagram and absolved the presidency of knowing that he was taking videos during his visit to the place.

Government is under fire to explain how the highest security installation in the country suffered such a breach.



SARA