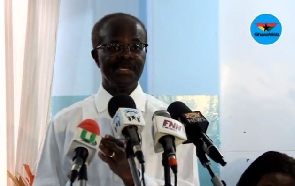 Founder of the Progressive People's Party (PPP), Dr Papa Kwesi Nduom, is not giving up the quest for Presidency anytime soon as he has reiterated his resolve to continuously put in measures to strengthen his party and provide Ghanaians an alternative to the two major political parties in the country; the New Patriotic Party and the National Democratic Congress.
According to him, PPP has remained active and is strengthening its presence in various towns and villages.

Dr Nduom noted that his party is steadily conducting elections at the various constituencies throughout the country and will soon move to the regional level by May 2018.

"In June, we will turn our attention to the overseas branches of the party" he hinted.
He believes it's a huge step that representatives of his party are now heard on radio and television making contributions to discussions on national issues.

"PPP remains the alternative, waiting and preparing itself to be given the opportunity to deliver great results as a party in power," he stressed.