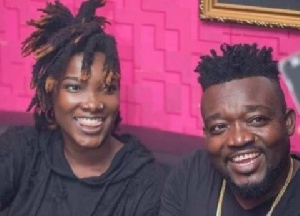 "Yes, I had a meeting with Ebony on Tuesday and sadly, that was the first time we met and last time we spoke. It was a possible signing discussion with an artiste which is the first stage to determine the artiste`s interest or otherwise.
"In our discussion, she emphasized and it was agreed that before she goes out of the contract, she has to satisfy a termination clause in the contract by paying her record label Ruff Town Records an amount of USD$100,000 of which Zylofon Media was ready to fulfill.

"That was what she termed as a bail out and there was no way we could do that without reaching out to Ruff Town Recordz," were the words of Nana Appiah Mensah, Chief Executive Officer of Zylofon Media on Zylofon FM as he offered clarification on his tweet about Ebony which had endangered controversy.

Nana Appiah Mensah earlier tweeted that he had had an interaction with Ebony where the latter pleaded with him to bail her out since she wanted to be free.

Reacting to the claim, Chief Executive Officer of RuffTown Records, Ricky Nana Agyemang, popularly known as Bullet said that Ebony was not under any bondage, while stating that the quoted bail out amount is even disrespectful to the Ebony brand and the RuffTown Records label.



According to Bullet, Ebony is worth more than $100k, and was therefore unfortunate for anyone to quote such a peanut. He revealed that Akon expressed interest in signing Ebony and they were almost through with the deal which was more than $100,000.
"Ebony was not in bondage. She was an artiste who I can say was even dictating to management. She wasn't under any strict management. Contracts have clauses in them but if she wanted a bail out, due to the relationship that existed between us, it wouldn't have been a big deal. Perhaps someone tried to persuade her with an amount.

"The amount invested in Ebony was even more than $100,000. How much is $100,000? Is Ebony worth $100,000? The biggest artiste in Ghana now; her bail out is $100,000? $100,000 is the price of Gatdoe's watch. That is not money. To respect her value as an artiste, you shouldn't even mention $100,000. I don't get it. Bail out in which way?" he queried on Okay FM, Monday.



As monitored by Abrantepa.com, Bullet further revealed that Ebony detested a breach of confidentiality.

"One thing she never liked is letting others know of a conversation she had with you. She'll never be happy with you," he said.

Ebony, real name Priscilla Opoku-Kwarteng, was returning from Sunyani in the Brong Ahafo Region when the Jeep she was travelling in crashed into a VIP bus on Thursday evening, according to police.
Ebony was travelling with three other people, and two of them have also been confirmed dead. The two include a young lady, Ebony's assistant, and a military man.

She recorded hit songs like 'Dancefloor,' 'Kupe,' 'Hustle,' 'Maame Hwe,' 'Date Ur Fada' and 'Poison' under RuffTown Records.