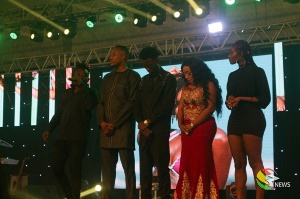 The organizers of 3Music Awards have made a donation of GHS10,000 to support the Ebony Foundation.
This was done at the 3Music Awards night Saturday March 23 held at the Fantasy Dome inside the Accra International Trade Fair Center.

Management of the late singer had announced at the launch of the official cloth for her funeral that they would soon launch a foundation named after the Ebony to support accident victims.

"The foundation is for accident victims. You know she died through a very serious accident so what we are doing is to raise funds through the concert to support accident victims", manager of the late songstress and CEO of Rufftown Records, Ricky Nana Agyeman (Bullet) had announced.

Announcing the donation at the awards night, the Managing Director of 3Music Network, Sadiq Abdulai Abu, said they have decided to commit 5% of ticket sales each year to supporting projects that inure to the benefit of society and in this year being the maiden edition they want to support the Ebony Foundation with GHS10, 000 which will in turn support accident victims.
Ricky Nana Agyeman popularly known as Bullet thanked 3Music Awards for their support and emphasized the purpose of the foundation stating that "the Ebony Foundation is meant to support accident victims".

The late songstress, born Priscilla Opoku-Kwarteng, died in a car accident on February 8, 2018, together with her childhood friend Franky Kuri and Francis Atsu Vondee of the Ghana Air Force, believed to be her bodyguard. She has been laid to rest earlier Saturday March 24 at the Osu cemetery in Accra preceded by a final funeral rites and service at the forecourt of the State House.