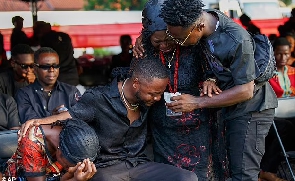 Asides from some major highlights which trended on social media, the funeral ceremony of the late Christian Atsu Twasam was also characterized by other interesting incidents.
Cameras captured both wild and interesting scenes at the forecourt of the State House where patrons from all walks of life, trooped in to pay their last respect to the former Black Stars player.

The funeral was successful, but these interesting events couldn't go unnoticed.

1. Sulley Muntari almost attacks paparazzi

But for the timely intervention of some individuals present, former Black Stars Player, Sulley Muntari, would have landed a blow on the faces of some videographers and bloggers who chased him around with cameras while he was busily mourning his friend.

Unclear what necessitated the scuffle, things escalated so fast and Muntari almost beat the 'living daylight' out of these individuals.
This incident occurred not too long after he arrived at the event grounds while being escorted toward his seat.


2. Hundreds of mourners swamp Christian Atsu's hearse
The last time such an incident was witnessed was in 2018 when scores of teaming fans invaded the funeral grounds and crowded the hearse carrying the late Ebony Reigns' mortal remains.
On Friday, March 17, 2023, shortly after
Christian Atsu
's mortal remains was lifted and placed in the hearse, it was an extremely difficult task for the security to dispatch the crowd and clear the path for it to head to the burial grounds.
All kinds of sympathizers, particularly some members of the Black Stars Supporters Union were captured wailing on the streets, making it difficult for the body to exit the event grounds.


3. Asamoah Gyan performs on stage
In honour of his late colleague, former Black Stars Captain,
Asamoah Gyan
took the center stage, grabbed the microphone, and entertained fans at
Christian Atsu
's funeral held at the forecourt of the State House in Accra.
'Baby Jet', who is also known to be a well-talented musician, fed the audience with back-to-back songs and awesome performances that got fans on their feet.

He also performed a couple of songs noted as the late Christian Atsu's favorites.


4. Beautiful cultural display
The display of tradition was at its best at the funeral grounds where some cultural troupes fully represented
Christian Atsu
's tribe in grand style.
The late footballer who is said to be of Ga-Adangbe and Ewe descent had both beautiful cultures displayed at his funeral held at the State House in Accra,

The costumes, dance, drumming, and incantations of tribute at the event were an interesting sight to behold.


EB/BB