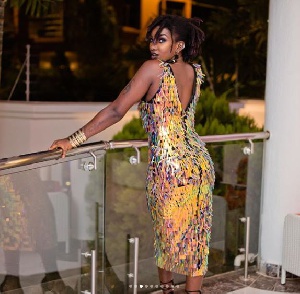 To many Ghanaians, it is still unbelievable that dancehall artiste Ebony Reigns has passed on.
The fast-rising singer passed on in the late hours of Thursday after being involved in a gory accident on the Kumasi-Sunyani highway.

Her demise came as a shock to many, especially as she was just a week short of reaching her 21st birthday.

Tributes have poured in from all angles since news broke of Ebony's demise, with the whole country currently in a state of mourning.

However, before her unfortunate death, the "sponsor" hit maker did a couple of surprising things that are worthy of noting.

Here are five shocking things that Ebony did before dying in that gory accident.
1. She met Dr. Lawrence Tetteh

Ebony spent part of her last days with renowned man of God, Dr. Lawrence Tetteh. In an Instagram post, the dancehall diva posted a picture with the international evangelist, accompanied by the caption: "I enjoyed our meeting today Daddy." It is unknown what they discussed, but her caption suggests they had a good conversation.

2. Her style of dressing in public photos changed

Ebony was most often criticized for her style of dressing, with many particularly accusing her of being too exposive. However, in her last two photos posted on Instagram she was well covered in the gown that she wore. She was pictured in a straight dress.

3. She spent time with her family
Surprisingly, before Ebony died, she spent time with both her mum and dad. The dancehall diva last saw her father on Wednesday, before travelling to see her mum. At her mum's place she enjoyed some quality time with her family members, taking photos and video, which would later prove to be her very last in this life. READ ALSO: Why Ebony was so inspiring to the youth

4. She tried to avert the prophesies

It has emerged that some pastors prophesied that Ebony's death was nigh and that she needed to change her ways to avert it. A series of WhatsApp snapshots put out by her manager, Bullet, indicates that they indeed tried to avert the prophecy of her death by taking some steps, but they just couldn't prevent it.

5. She had talks with Sonnie Badu

Again, a few days before her death, Ebony reached out to gospel singer, Sonnie Badu. The UK-based Ghanaian artiste posted on Instagram that he met with the dancehall diva to talk about certain issues. The content of their chat is not known, however, Ebony later thanked Sonnie Badu, saying she loves his music.