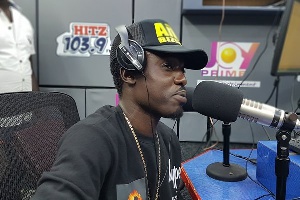 CEO of AMG and businessman Criss Kweku Waddle has taken a swipe at his haters tagging them as poor people who are intimated by his success over these years.
Criss Waddle has been tagged as a fraud boy and a scammer by most people judging from the kind of wealth he has that his senior brother who is also a musician Kwaisey pee can't even boost off.

Criss Waddle has already made it clear that he is a businessman and got his money while working as a plumber in the United States of America.
But it looks like all his explanations don't still go down well with people and have therefore decided to fire them by referring to those who always envy him.

Taking to his social media page, the former member of R2bees shared; '99% Of The People That Hate Me Are Broke And Intimidated By My 2 By 4 Success Cus If U Sit Them Down And U Ask Them Why Do U Hate Waddle,U Will Realize They Have No Good Explanation ?? I'm Yet To Meet A Rich Man That Hates Me??? Ohiaa Y3 Adambor #AMG Wati….God Punish Poverty ??'