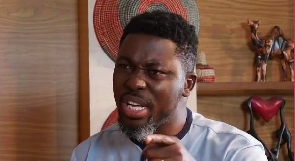 Musician and satirist A Plus is mad at Barclays Bank, accusing the financial institution which is changing its name to Absa of trying to "take advantage" of budding artiste Bosom P-Yung.
A Plus's fury was triggered after he sighted a video of actor Kwadwo Nkansah (Liwin) performing Bosom P-Yung's monster hit song 'Attaa Adwoa". The said video had the logo of Absa on it without the consent of Bosom P-Yung.

"Shame on you Barclays Bank/Absa!!" fumed A Plus in an Instagram post.

"When you are trying to make it, nobody sees your struggle. Nobody will be there to help you. Nobody will cry with you. Immediately you make it, companies and individuals will find ways to take advantage of you. If you complain they say you are controversial or arrogant. Yeah, as for me, per the Ghanaian definition of arrogance, I'm very very arrogant. I won't allow you to cheat or take advantage of me. Don't think of it."

"This is shameful Barclays Bank. @bosom_pyung is a young poor boy who has hustled to make it. This guy has gone through a lot. If you find his song important in your change from Barclays Bank to Absa, at least sit down with the guy and pay him. Can you do this in South Africa where you came from to take over Barclays Bank?" he asked.

Kwame Asare Obeng, as the satirist is known in real life, further stated that the bank's decision to use the record without the permission of the right owner was a deliberate attempt to market their institution.
He said: "I know you'll say you don't know anything about it. That is the plan. "Let Lilwin do a video with the song. We will pretend we don't know anything about it. It will go viral. We will advertise our bank for free."

"That's my suspicion. The sad part is that, they did it with the help of fellow Ghanaians. Same as slavery. No white man went to capture blacks. It was black people who sold black people to the white man. This is totally unfair. This is morally wrong. I won't say legally wrong because like I stated, if he goes to court, you'll say you don't know anything about it. That is the trick. Don't treat Ghanaian artist like this."

Bosom P-Yung's reaction to the development was shorter.

"This is so unfair Barclays Bank/Absa," his tweet read.


This is so Unfair Barclays Bank / ABSA ??????????? pic.twitter.com/VL9vH8N2wr

— AwiesU (@bosom_pyung) January 29, 2020
Barclays has however distanced itself from the video and asked the public to desist from unauthorized use of its logo.

"Our attention has been drawn to a music video with the song "Attaa Adwoa" circulating on social media with the Absa logo. We wish to distance ourselves from the said video and to state that neither Absa nor Barclays has commissioned anyone to produce of use our logo for such a production. We have further instructed them to desist from the use of the Absa logo as well as further sharing of the said video," a statement from the bank read.

"Our commitment to our customers and Ghana remains stronger than ever. We will continue in our role as a bank to connect the ambitions of our customers, communities and Ghanaians with financial resources, services and opportunities in innovative ways to bring their possibilities in life," it added.