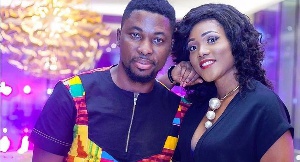 Recording artiste A Plus is set to marry longtime girlfriend Celebrity Stylist Violet Bannerman, popularly known as Akosua Vee this weekend.
The traditional rites will be performed on Saturday, February 25, and White Wedding later in May 2017.

He dropped hits of his upcoming marriage on Facebook posting a photo of his woman with the caption:  Enough!!! Owner!!!! Done!!! Akosuavee Ab Bannerman!!! Signed!!! Sealed!!! Delivered!!!#Wife!!!

He posted another photo with an interesting caption: My grandfather, ?panin Kwaku Duku married 18 women. They never fought…. they lived happily together till he died at 98 years.

I posted a picture of just one wife and all my girlfriends have stopped picking my calls kwakwakwakwakwakwakwakwa today's women paaaa di? b?i…..
Masre saaaaa Ok cool. You people can go. If I was your brother will you ask me to eat jollof for the rest of my life?

Herh Ghana girls #Ababullshit so nyin The picture di? I won't stop posting Stiiiiill Akosuavee Ab Bannerman #Comfortablelead .