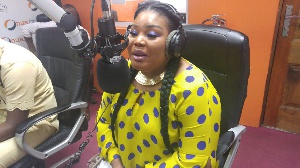 Comfort Twum, otherwise called Ceccy Twum, has alleged that another gospel musician wanted her career dead.
Speaking on Starr Drive with KOD and Cookie Tee, she revealed that the said gospel musician (whose name she failed to disclose) went to the extent of taking her photograph to a voodoo (black magic) shrine in the Volta Region to make sure her career takes a nosedive.

The person, she claimed, sees her as a force to reckon with, hence the reason to want to eliminate her from the gospel music scene.

"I was once told by a man of God I visited that my picture has been taken to a place in Ho," she stated.

She, therefore, cautioned the general public to be wary of some artistes they refer to as gospel musicians because "not all gospel musicians are Christians."
She, however, added that she is not surprised such a thing is happening because the end of the world is near and a lot of things are bound to happen.

Ceccy is currently promoting her new single titled 'Diwo Hene', which features Joe Mettle. She was on Starr FM to promote her new song when she made the revelation.

The celebrated gospel artiste disclosed that she may be releasing an album by the end of the year.