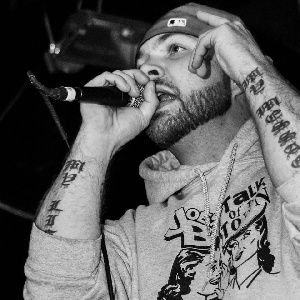 Wonders they say never ends and people will not also stop at anything to ensure they are heard and seen for what they do.
Well, one individual using all means possible to gain the attention of Ghanaians and the world is the second "Joey B" who claims to have been born in the United States of America.

According to the rapper who is probably not known on the music scenes in Ghana, the real Joey B stole his brand name and have depended on the brand to build a resolute career for himself but he has come to take back what rightfully belongs to him.

He indicated that the real Joey B is a fraud and needs not to be given the needed attention he has been given over the years adding that he intends eating off his own work rather than scamming people with someone's brand.
He posted "Dear confused people: I was born in the Usa (Boston area to be exact) I have been rapping since in was introduced to 2pac at the age of 9. I was also Born Joseph Barbieri, you guessed it! A shortened version of the name is Joey B. This whole narrative that I stole Joey from Ghanas name to make money off of him is a joke. LMAOOOO it's my government issued name. I've never listened to Ghanas Joey B, I never intend to and I eat off my own work NOT by scamming off his name. If anything..... You People need to realize he's the fraud when it comes to An artists name: straight from the Wikipedia page that I SET UP only to wake up the NEXT morning and have it all redone by his marketing team:::: "Darryl Paa Kwesi Bannerman-Martin" known under the stage name Joey B" Guy has 5 names to choose from and says "yeah I think I'm gonna go by Joey B". Give me a break.... with all that said best of luck to Joey from Ghana on his career".