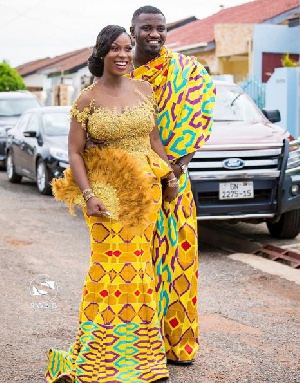 Over the weekend, trending on all Ghana's social media platforms was the traditional wedding of actor John Dumelo and his new bride Gifty Mawunya.
The much talked about wedding had in attendance celebrities both from Ghana and Nigeria gracing the historic occasion.

Also, present to congratulate the new couple was the former president John Dramani Mahama.

Appearing like a royal with his kente cloth wrapped around his shoulders, the red, shade of green and purple with dominant gold colours was the perfect choice of kente piece for their skin tone.

The second look was more than stunning when the award-winning actor appeared in his designed pink and white Agbada; his wife opted for a lace gown.

According to reports, Mawunya happens to be the sister of Selassie Ibrahim, a well-known actress who runs Smarttys Management.

She is also reportedly best friends with actress Nadia Buari.
Click "PHOTOS" for more

Photo by: Swagofafricanews - Instagram