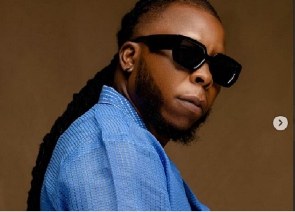 Ghanaian rapper, Denning Edem Hotor, also known as Edem has hit hard at the Minister of Sanitation and Water Resources, Freda Prempeh over comments she made about the victims of the recent Akosombo Dam spillage.
In an interview with Berla Mundi on TV3, Edem described the minister's comments as "nonsense" adding that the government appointee chose the wrong time and place to make such statements.

"I believe that's absolute nonsense. Absolute nonsense. Because in life, you have to use logic... This is the wrong time to make such a statement as a leader and where people's families and loved ones are really involved, this is really just the wrong time to make such a statement.

"And I know from sources that she hasn't been on the ground. She wasn't on the ground when she made a statement. Even if you have been on the ground, what happened? If it was your relative involved in that, would you say, I've warned you and you didn't go?" he questioned.

Edem further argued that, even with prior notice, residents' reluctance to evacuate might have resulted from a lack of specific information about the evacuation date and the location of evacuation centers. He supported his claim by highlighting instances where residents were left uninformed. In addition, he asserted that addressing these gaps in communication is crucial for effective disaster management.

Furthermore, Edem emphasized the importance of leaders ensuring that residents receive clear and timely information.

"And even if you have warned them, where are you sending them to? People have made homes, and their soul, and their spirits live in that place. So if you want them to relocate, you should tell us. Oh, we told them to go to town A or B and they didn't listen.
"And then I also heard that the day the dam was being opened, they weren't informed on that day. So even if you told them ahead of time, how about the day of opening? So I think it's really upsetting. And any leader who is a good leader shouldn't exude the kind of utterances she was exhibiting," he said.

Background

The overflow of water from the Akosombo Dam has resulted in the displacement of hundreds of individuals in the Mepe and Battor areas of the North Tongu District in the Volta Region. This dam spillage has inflicted significant damage to homes and infrastructure, leading to the displacement of families and a disruption of daily life in the affected areas.

The sanitation minister, during a press conference in Accra on October 22, said that the people in Mepe and other areas did not want to be evacuated despite the simulation exercise and the education by the authorities.

She said that the government had to spend a lot of money on relief items and water treatment because of the flood and the contamination. She advised the people to be proactive and heed the warnings.

ID/BB
Click here to follow the GhanaWeb Entertainment WhatsApp channel



Ghana's leading digital news platform, GhanaWeb, in conjunction with the Korle-Bu Teaching Hospital, is embarking on an aggressive campaign which is geared towards ensuring that parliament passes comprehensive legislation to guide organ harvesting, organ donation, and organ transplantation in the country.

Watch the latest episode of Everyday People below: