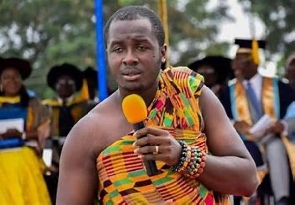 Popular Ghanaian poet and spoken word artiste, Philip Boakye Dua Oyinka, also known as Nana Asaase has spoken out about the lack of respect and fair treatment that cultural performers often face from event organizers.
In an interview with Joy Prime's Celeb Biz, Nana Asaase highlighted some common issues faced by cultural performers at events.

He mentioned instances where performers had to change into their costumes in inadequate and uncomfortable spaces like washrooms, corridors, or dusty areas because event organizers didn't provide proper changing rooms.

Nana Asaase cited the disparity in the treatment between musicians and cultural performers, noting that musicians are often given VIP treatment with special holding areas while cultural performers are being neglected.

"Musicians are artistes; these drummers are artistes. Poets are artistes. You want to bring a musician to an event, so you give him a VIP holding area. Fantastic! When you bring in these drummers - maybe I'm bringing you seven or eight mature people - and you want them to change in a washroom, a corridor, or a dusty office? Please, we're sorry. We won't do it," he said.

He emphasized that neglecting the needs of cultural performers could negatively impact the overall quality of the show.

Nana Asaase also criticized the media's tendency to focus on the speeches of prominent figures, overlooking the art that adds vibrancy to event.
He urged event organizers to show respect to cultural performers, recognizing their essential role in preserving and showcasing Ghana's rich cultural heritage.

ID/SARA



Click here to follow the GhanaWeb Entertainment WhatsApp channel

Ghana's leading digital news platform, GhanaWeb, in conjunction with the Korle-Bu Teaching Hospital, is embarking on an aggressive campaign which is geared towards ensuring that parliament passes comprehensive legislation to guide organ harvesting, organ donation, and organ transplantation in the country.