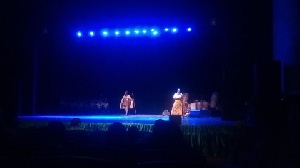 Agoro', A Concert of Contemporary Ghanaian Music, Dance and Drama is set to be presented at the National Theatre of Ghana, next month - June 28 to June 30.
For three magical nights, experience powerful, moving and eclectic new contemporary works inspired by African history, culture, creative arts and aesthetics.

Composed by Paschal Yao Younge, choreographed by Zelma Badu –Younge, conducted by Isaac Annoh, narrated by Mawuli Kemevo and directed by Nii-Tete Yartey, will be performed by The National Dance Company, National Symphony Orchestra, National Drama Company, Azaguno, International Artists from the United States, Canada, etc., in addition to several of Ghana's own nationally and internationally recognized groups.

The production, commemorating the Silver Jubilee of the National Theatre of Ghana,

themed "Ghana Meets the World" has an interesting plot that would captivate and hold the audience spellbound. Experience a unique African theatrical experience that will transform the stage of the National Theatre of Ghana

The production is centered on new African orchestral music, dance, drama and even more interesting is the incorporation of excerpts from previous productions "Diema" and "AZA".
Preceding the performances would be an international symposium and workshops focusing on the theme, art, health and wellness to create the opportunity for intellectual exchange of ideas and related concepts from June 25-27. There will also be free mental, bone and general health screening during the symposium.

The expectation is that this is going to bring tremendous benefits to artists, art teachers, students, health workers, policy makers and other professionals.

For more than a month now, the National Theatre has been reverberating with rehearsals towards this weeklong exhilarating celebration.

Agoro production is under the auspices of the Ministry of Tourism, Arts and Culture, the National Theatre of Ghana and three of its prestigious companies - the National Dance Company, National Symphony Orchestra and National Drama Company in collaboration with Ohio University and Azaguno Inc, US.