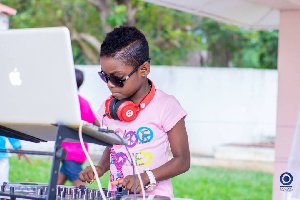 President of the Creative Arts Council, Mark Okraku Mantey has asked the parents of DJ Switch, the 10-year-old Ghanaian disc jockey, to remain grateful to those who guided their ward to stardom. www. Adomonline.com reported!
According to him, the parents of the young DJ should acknowledge people who made the effort to push their daughter into the limelight including DJ Fuad who discovered her.

"It is humane to appreciate his [DJ Fuad] works. It's not because he has been paid off. Ingratitude has been one of the biggest problems in the industry. Why do you think that when you pay Sony Music for their works, you still have to acknowledge their brand," he quizzed.

"Little things must be appreciated; you lose nothing when you say thank you. They should appreciate him [DJ Fuad] for his hard work," Mr Mantey advised.

One of the DJs, who is known to have helped push DJ Switch, recently complained of being sidelined.

DJ Fuad who worked behind the scenes and trained Erica Tandoh, popular known as DJ Switch, to win Talented Kidz Season 8, says the young DJ and her guardians have neglected him.
Speaking in an interview with Kofi TV, DJ Fuad said he was disappointed that DJ Scratch, one of the people who also helped train DJ Switch, was allegedly called a 'villager'.

According to him, if DJ Scratch could be called a "villager", he was not shocked when he was sidelined by DJ Switch's handlers.

Mark Okraku Mantey recalled his past, revealing that he went through the same situation with then secular musician, Lord Kenya.

He, therefore, advised DJ Switch's handlers to resolve issues that have to do with giving credit to people who have supported her.