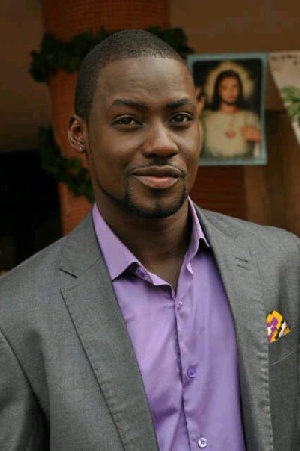 Wed, 11 Apr 2012 Source: News one
There are rumours that Ghanaian actress Nana Akua Addo is dating Ghanaian actor and fingers seem to be pointing at Chris Attoh. The actress has spoken to News-One about her relationship with male celebrities and her secret crush on Chris Attoh.
"How, they are brothers, if you see Majid Michel with me somewhere, dating shouldn't even cross your mind no matter what we do. He is like a brother I have never had. John Dumelo, Prince David etc, these guys will pull your legs and you don't feel that sexual connection at all. Sometimes when you are eating, they come and take your food away. Sometimes when you are dressing on set, they come and say 'hey hurry up'. For me I will always want to be with them but not for sexual reasons," she said in an exclusive interview with News-One. She also claimed none of the guys had ever approached her for an amorous relationship.

But interestingly, she revealed a little secret about one of them. Over the years, she said, she had had a crush on actor Chris Attoh.

"It's funny but I have a crush on Chris Attoh. I think he is super fine. I like the way Chris talks and he is so polite. He is a 'British boy' you know. He is so cool," she said as she blushed.

When asked if she wished Chris was the man in her life, Nana said, "I wouldn't say yes or n but whoever is in my life, if there is, I'm very content. It is always nice to have that person in your mind and it is always nice to have that person you can rely on. These are two different things."

Nana however did not make it clear whether she was dating or not. "I won't say I'm dating or not but I will say I'm not searching. I am not searching because I'm very ok wherever I am. It is not a problem for me."
Nana Akua got her first movie role in Van Vicker's 'Raj-The Dancer'. Though she burst into the movie industry about four years ago, she spent two years globetrotting. Two years ago, she decided to go into full-time acting.

Some of the movies she has appeared in include 'Rain', 'Wannabe', Destiny Child', among others.

On her prospects for the future, she said: "I am not rushing, I am taking my time and everything that you take your time on ends well. Let's just wait for the next five years and see what happens."

The ex-Miss Malaika runner-up said she admired actresses like Jackie Appiah, Yvonne Okoro, Nadia Buari and host of others.

She made her entry into showbiz in 2000. She worked at 4syte TV as a presenter and was a runner-up for Miss Malaika 2003. She also won Miss Ghana Germany.
Nana Akua was born to Ghanaian parents from Akuapim in the Easter Region but based in Germany. They are Christians. She has two brothers, Perry and Terry who are also domicile in Germany.

Nana attended different basic and Senior High Schools including Achimota Senior High School, St. John's Senior High School and Holy Child.

She describes herself as a down-to-earth person. "I am a human being like any other person, I have my bad days, good days and average days. I'm down to earth yet when you step on my toes, I will want to put you on the right path."
Source: News one