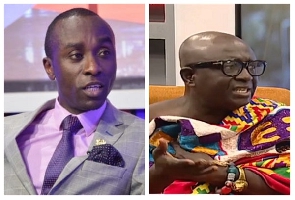 The Deputy Director of Communications for the New Patriotic Party (NPP), Ernest Owusu Bempah, has launched an attack on Ghanaian broadcaster Kwesi Kyei-Darkwah popularly known as KKD following his recent comment that whoever coined the NPP's popular slogan, "Breaking the Eight," is a fool.
Owusu Bempah accused KKD of speaking out of hatred and bitterness and questioned his reasoning abilities.

Speaking in an interview on Neat FM on July 31, 2023, Owusu Bempah expressed his belief that the comments were uncalled for and senseless.

"First of all, KKD I think that he has a problem, he himself personally …since my breastfeeding days that I heard of KKD, when he was wearing big chains and a hat with a suit and others …so, for him, he has seen all previous governments and for him to come and comment that the person who coined 'breaking the eight' doesn't have sense, then it means he has said something uncalled for….

"Even his line of argument is below the bar, for anybody like him to speak like that, you can see that all that he is saying is borne out of bitterness…his utterances is not borne out reasonable thinking, the way he is talking he is speaking out of emotional hatred, that is how he is speaking," he said.

He referenced KKD's long history in Ghanaian media and argued that his emotional stance and criticism of the person behind the "Breaking the Eight" slogan were unwarranted.
Owusu Bempah went ahead to point out some alleged issues within KKD's family, specifically targeting his son's advocacy for LGBTQI+ rights abroad. He challenged KKD to address these matters before criticizing others, suggesting that his moral standing should begin within his own household.

"Was KKD asleep when a certain president went to Kyebi to say that, Kyebi is the headquarters of galamsey, were we not here when Aisha Huang brought chanfang to mine galamsey, wasn't he here?

"Today his son is standing in America, Britain advocating for gays…his elder son is standing in Britain, can Kwesi Darkwah say that his father who gave birth to him and took care of him, told him to allow his son to become gay? If he knows how to address issues, he should address his household issues.

"For someone with Presbyterian upbringing, this is one of the most abominable lifestyles the son is bringing out…he should talk about his household's issues if he wants to talk about others."

KKD recently criticized the NPP's popular slogan, "Breaking the Eight" labeling it as nonsensical.
According to him, the person responsible for coining the term lacks common sense, as he believes that if the ruling government had performed well enough to merit an extension of its mandate, there would be no need to resort to such slogans.

Speaking in an interview with TV XYZ on July 26, 2023, KKD criticized the current president, Nana Addo Dankwa Akufo Addo, accusing him of failing to fulfill his promise to tackle illegal mining, commonly known as galamsey.





AM/SARA
You can also watch some of our programmes below.








Share your news stories and ideas with GhanaWeb




To advertise with GhanaWeb