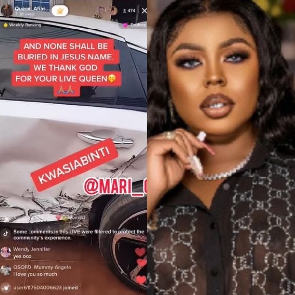 Ghanaian comedienne, Afia Schwarzenegger has narrowly escaped death after a car collision.
In a live video on TikTok, Afia Schwarzenegger expressed her gratitude to God for preserving her and her children's lives.

The socialite spoke of how the crash left her unharmed and in excellent health, but that her car was significantly damaged. She later displayed the damage to users online.

She said that while a car could be fixed and is a tangible asset, a person's life couldn't, hence her thanksgiving.

Somewhere last week, a video of Afia Schwarzenegger in a church was captured and circulated on social media.

What made the video stand out for many was the prophecy she received from a man of God, called Ogyaba. He prophesied that the socialite was going to be involved in an accident that would lead to her death.
According to the prophet, Afia's enemies had teamed up with her mechanic and planned her unfortunate death through a gory accident.

From inside the chapel, Afia was seen requesting her technician to finish working on her car.


ADA/BB