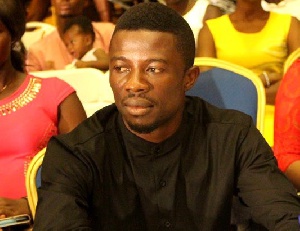 President-elect Nana Addo Dankwa Akufo-Addo will serve the maximum two terms as president before leaving office, Ghanaian actor Kwaku Manu has predicted.
There is talk Mr Akufo-Addo may not contest a second four-year term given he is 72 years and will be 76 in 2020 when his first term draws to a close.

But according to the Kumawood actor, it has been a generational thing since multi-party democracy began in the country to give every sitting president a second term in office and Nana Akufo-Addo will not be different.

Kweku Manu said this on Entertainment Capital on Accra100.5FM on Saturday, December 24.

He told DJ Premier that his observation was from a study he had conducted.
"It is a study I have conducted. It's a Ghanaian thing. Do you know some people vote but do not even know their president?" he quizzed.

"But these people are able to identify the emblem of political parties. They can identify the umbrella represents the National Democratic Congress (NDC) and can also tell the elephant represents the New Patriotic Party (NPP), so such people do not consider the candidate but the party.

"Jerry John Rawlings was president for eight years, John Agyekum Kufuor was president for eight years, President John Mahama was vice president and together with the late President John Atta Mills did eight years. So how many years do you think Nana Akufo-Addo will govern as president?" the hilarious actor asked rhetorically, adding: "He (Akufo-Addo) will do eight years and leave like the others."