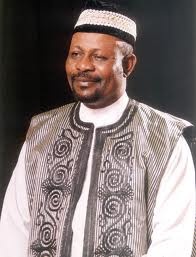 Tue, 15 May 2012 Source: GNA
Alhaji Sidiku Buari, former President of Musicians Union of Ghana (MUSIGA) on Tuesday suggested that "Azonto," a popular freestyle Ghanaian dance, be infused into hiplife or highlife to retain its Ghanaian identity.
He told the Ghana News Agency in Accra that, though he did not find anything wrong with the Azonto dance- a Ghanaian dance-craze move making waves around the world, he was of the view that it could lose its cultural distinctiveness overtime if steps are not taken to instill the melodious genre the nation was noted for.

Alhaji Buari's comments follows suggestions he made earlier at the Inaugural Breakfast Meeting that was organised by the Canadian Chamber of Mines (CCM) in Accra on Tuesday, that Ghanaian music should be played at the Kotoka International Airport (KIA) as a means to advertise the country's rich creative industry.

He expressed dissatisfaction that the country's uniqueness portrayed through its music are now on the low side, adding that Ghana needs to imitate exemplary countries who showcase their musical identity on many platforms.

Alhaji Buari made the suggestion at a meeting with Mrs Doreen Owusu-Fianko, Managing Director of Ghana Airport Company Limited organised to discuss, among other things, how CCM could participate in the massive modernisation exercise being undertaken by KIA.

He explained to the GNA, "If you travel to a country like Spain, right there at the Airport, you feel you are in Spain just by hearing the indigenous music being played."
Alhaji Buari said since the airport is a special point of contact for a traveler either leaving or entering the country, there is the need to play a Ghanaian music to create the awareness of the creative industry.

On the Azonto dance, Alhaji Buari said though Ghanaians live in contemporary times, there is the need for the uniqueness of the creative industry to be retained for posterity.

Mrs Owusu-Fianko pledged that management would carry out his suggestions to play wholesome Ghanaian music at KIA.

GNA reported on January 3, 2012 that its study revealed that Azonto dance originated from the traditional Ghanaian dance, Kpanlogo which first started in indigenous localities in the Greater Accra Region such as Bukom, James Town, Chorkor and in the port town of Tema.

The dance, which has currently taken over other dance forms at clubs, house parties and churches in the country have infected the youth.
The free style dance involves the shaking of hips, stretching and pointing hands to different direction at a tempo to song beat and sometimes mimicking the performance of household chores like washing or doing some ironing.

More recently, some popular Ghanaian hip hop stars such as Sarkodie, 4×4 and Gasmillan have adopted the dance and arranged their musical beats to the movements of Azonto dancers.

The world has seen lots of Dance Craze creations ranging from break-dancing, the Macarena, the Twist and many more but few will beat the exhilarating vigour, dynamism and sheer creativity of Azonto.

Entertainment legal experts are therefore calling on the Ghanaian authorities to capitalise on the Azonto dance wave to protect it and use it to market the country.**
Source: GNA