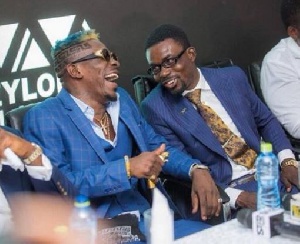 Currently, the most popular record label in Ghana right now is Zylofon Media.
This follows their 'impressive' signing of Shatta Wale recently as a new addition to the Zylofon family. Given Shatta Wale's fame and 'power', some Ghanaians, especially fans of Stonebowy, have raised concerns as to whether he would be prioritized above the other Zylofon Media artistes.

This has been the case because Shatta Wale's signing was covered in a 'big' event which was talked about during that whole week. Meanwhile, the signing of other Zylofon artistes were done rather 'silently' as compared with what was done for Shatta Wale.

But the Public Relations Officer of Zylofon Media, Samuel Baah, has dismissed allegations that Zylofon has been bias against its other signees.

He explained that Shatta Wale' launch became 'big' because Zylofon has been playing all of its events for people to see what the record label is up to.

"Zylofon Media is not only interested in launching Shatta Wale but also all our artistes. People see Shatta Wale's signing as big because we currently have been replaying all our events for people to know what we are doing."

"This is why you may see Shatta's unveiling on TV and not because we see him as bigger than any of our artistes," Sammy claimed.


He stated further that all Zylofon artistes are equal and that Shatta Wale would not be given any different treatment from the others.

In an interview with Kumasi-based FM station, Abusua FM, Sammy Baah said the record label is not only interested in promoting only Shatta Wale but all other artistes belonging to it.

According to Sammy, Shatta Wale's move to Zylofon would not affect any of the signed artistes, and pleaded with fans of various signed artistes not to see Zylofon as biased just because Shatta Wale was given huge publicity.

Shatta Wale has signed a three-year management deal and is reported to have juicy benefits including a house, a brand new car and $1.5 million.