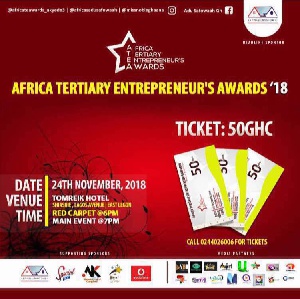 Tue, 20 Nov 2018 Source: Africa Tertiary Entrepreneurs Awards
The maiden edition of Africa Tertiary Entrepreneurs Awards (ATEA) comes off on Saturday, November 24, 2018 at the Tomreik Hotel, East legon (Adjacent Erata Motors).
The red carpet segment is scheduled to start at 6pm while the main event is at 7pm.

ATEA is an award scheme founded by Aketesia Group, executive producers of Miss Noble Ghana Beauty Pageant and Shocki TV Series 1 and 2. The scheme is produced by Regis Entertainment.
"We want to encourage many students to go into entrepreneurship and we believe this could be achieved by recognizing and rewarding students for their outstanding performances in their various industries. This award scheme in the long run will help reduce graduate unemployment in Africa," says Regina Adu Safowaah, founder of ATEA.

Africa Tertiary Entrepreneurs Awards is sponsored by KK. Peprah Company Ltd, Africa's most affordable and durable roofing sheet company.
Source: Africa Tertiary Entrepreneurs Awards