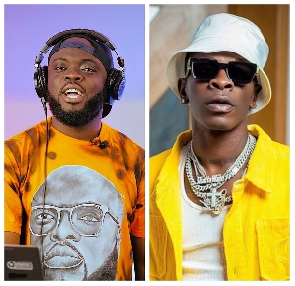 In the midst of all the controversies emanating from the construction of the National Cathedral, a purported list of President Akufo-Addo's reshuffle, the Debt Exchange programme and reports of a major shakeup in the leadership of the minority in parliament, the battle between 'Dancehall King' Shatta Wale and 'Content Nyame' Kwadwo Sheldon secured a spot on social media trends.
Undoubtedly, it's been a week of altercations culminating in the release of a diss song and a threat to physically assault an opponent should he continue to spew what the other party described as utter gibberish.

Two showbiz personalities plying their trade in different sectors of the industry locked horns, courting attention and reactions from the general public. The background and chronology of events coupled with the characters involved made the social media war intriguing with many expressing interests in how things would pan out.

What exactly caused the dispute? GhanaWeb explores the subject below.

The Genesis: Meek Mill Jubilee House video brouhaha

Meek Mill was one of the guests at the Afro Nation concert in Ghana over the Christmas holidays. On late Sunday, January 8, 2023, the American rapper posted an Instagram reel announcing that he was set to release a new track.

It turned out that portions of the said video were shot in and around the Jubilee House during his visit. This stoked controversy and divided opinions, with many critiquing the act and tagging it as the 'height of desecration'. They argued that the seat of government was not supposed to be used for such an activity insisting that the edifice is not a tourist attraction.


Shatta Wale reacts to Meek Mill's video

Aside from veteran sound engineer Fred Kyei Mensah (Fredyma) who defended the act, Shatta Wale was one of the showbiz personalities who saw nothing wrong with Meek Mill's conduct. In a series of tweets punctuated with insults, the Dancehall musician justified the decision to shoot the music video at the Jubilee House.

"You wan go America go take pictures for White House, You say "year of return " and your own black brother come shoot video as he return home you bore .. You are a villager trust me!!!" one of his tweets read.


You wan go america go take pictures for White House ,

You say "year of return " and your own black brother come shoot video as he return home you bore ..

You are a villager trust me !!!

JJC —Jon's

— SHATTA WALE (@shattawalegh) January 9, 2023
He also argued that the president could do whatever he wants without anyone questioning him because he is the first gentleman of the land. Although Meek Mill later apologized after the barrage of backlash, Shatta Wale continuously defended the Jubilee House video shoot.

Kwadwo Sheldon dissects the issue on his YouTube channel

Known for creating content on trending issues, Kwadwo Sheldon shared his view on the development. He joined the chorus of criticisms, questioning why anyone would allow the musician to use the edifice for a video shoot. In a separate video, he turned the heat on Shatta Wale for 'blowing nonfa' – to wit, making an incoherent argument.

"I like Shatta Wale but sometimes, some of the things he tweets, I don't get it. This is a serious security breach. This is a serious disrespect to the presidency and this is what this guy is talking about?" Sheldon stated.

Sheldon further mentioned that the actions of the president are subject to the constitution and hence he cannot do what he wants as claimed by Shatta Wale.



Shatta Wale fights back, Sheldon rebuts with a red letter
In a video, Shatta Wale unleashed insults on Kwadwo Sheldon for discussing him on his show. He also mentioned that Kwadwo Sheldon, through rapper Medikal, has been begging him (Shatta Wale) for an interview. He accused Sheldon of insulting the president, a claim the Youtuber refuted as he clearly did not malign the president in the said video clip as broadcast by the musician.

Shatta also accused Sheldon of feeding on negativity and building no legacy. In response, Sheldon said Shatta Wale's career has rather been built over needless controversies which have even led him the prison.

Sheldon vowed to school Shatta Wale if he goofs, stressing that, unlike the musician, he would not go vulgar; rather, his responses would be education-driven and devoid of insults. Sheldon also noted that contrary to Shatta Wale's claim that he pleaded with Medikal to convince him (Shatta Wale) to grant him an interview, there was no such incident. According to Sheldon, Medikal rather mentioned he would like him (Sheldon) to interview Shatta Wale so he will "put in a word", a suggestion he (Sheldon) welcomed because indeed, he would like to interview the Dancehall musician as he does with his counterparts.



Shatta Wale retorts, stops Sheldon from using his song as signature tune for 'Yawa of the Day' show

As typical of Shatta Wale, his response to Kwadwo Sheldon was full of insults. Without equivocation, he threatened to physically assault Sheldon if the YouTuber utters "nonsense" whenever they meet. He was ready to go to prison.

Shatta who had released 'London Bridge', a diss song for Sheldon, then cautioned the YouTuber to refrain from using his song 'On God' which has 'Yawa of the Day' as part of the lyrics as a signature tune for one of his shows. He also warned Sheldon never to discuss him on his show again.


Kwadwo Sheldon releases second red letter to Shatta Wale

While acknowledging receipt of the caution, Kwadwo Sheldon announced that henceforth, he will not use 'On God' on his 'Yawa of the Day' show again. He would rather use what Kuami Eugene recorded for him. He, however, emphasized he will talk about Shatta Wale so far as the musician remains in the industry.

Sheldon vowed that the second red letter was his last, stating that, regardless of what Shatta Wale says on the subject, he will not respond because Shatta Wale does not address issues but only spews insults, hence, it was pointless.



BB/WA