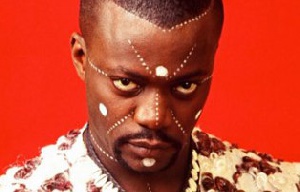 Thu, 20 Sep 2012 Source: ghanamusic
The Ivorian music icon, Meiway, who performed with Abrantie Amakye Dede last Saturday, declared that Abrantie, whose music has gone down well with music lovers in Ghana and beyond, is a true highlife music legend.
He told BEATWAVES in a chat after he had finished performing on stage that he loved listening to Abrantie's songs because his lyrics were educative.

Meiway, who performed Amakye Dede's hit song, 'Bebrebe' and struggling with the Twi lyrics, said, "I have known Abrantie for so many years. He is a talented highlife musician who will reign for a long time. Amakye is a true music legend."
According to him, Abrantie has contributed to the development of highlife music in the country and his music has been a source of inspiration and encouragement to him and many music lovers.

He stressed that Abrantie would not fade out easily because he has built a very good image for himself as far as good music was concerned.
Source: ghanamusic