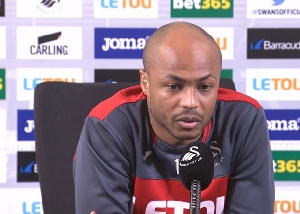 Andre Ayew has paid tribute to the death of popular artist Priscilla Opoku Kwarteng.
Priscilla Opoku Kwarteng a popular artist who was known for her passion for music died in a road accident at Sunyani-Kumasi road which occurred on late Thursday evening.

She was a well-known dancehall artist and known for her various hits and was commonly known as Ebony Reigns to the world. The dancehall diva was well-known for her passion for music.

Once she told that if she was given a chance to choose between education and music, she will go with music, which shows her inclination towards music.

The world is at a stage of shock and sadness on the sudden death of the popular artist.
After hearing the sad news the star athlete Andry pays a tribute by twitting "Rest In Peace Ebony... We love you but God loves you more" in his official Twitter page.

The world is in deep grief on the loss of such a talented star.


Rest In Peace Ebony... We love you but God loves you more.?????????????????????? pic.twitter.com/DKCKXeKZe7

— André Ayew (@AyewAndre) February 9, 2018