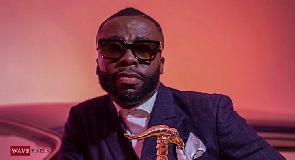 After harbouring his reservations about how Andy Dosty, host of Hitz FM's Daybreak Hitz has "constantly failed" to acknowledge his producers any time he wins an award for a very long time, Mr. Haglah, producer of the lifestyle and entertainment morning show on Monday, November 25, 2019 finally bared his teeth on live radio.
"You won an award two weeks ago, you came on air, you never acknowledged your producers," said Mr. Haglah in response to a claim by Andy Dosty that he always does.

"Without producers, there are no presenters... There's been another award you won. You came on air, thanked the fans, those who voted and the organisers; you never acknowledged your producers," Mr. Haglah argued.

Admitting that he had harboured his displeasure for a very long time, Haglah who is also the host of The Mixtape Show poked Andy Dosty in the eye again as he said, "today, I'm telling you in your face. Learn to acknowledge your producers."

Andy Dosty was adjudged 'Radio Personality of the Year' at the 2019 National Communications Awards (NCA) as he beat competition from Giovani Caleb, Abeiku Santana, Naa Ashorkor, Blakk Rasta, Nana Yaw Sarfo, Rev Erskine, Sammy Flex, and Antoine Mensah.

In his social media post sighted by Ghanaweb, the veteran expressed gratitude to his fans, voters, organisers and Hitz FM.


Over the weekend, the disc jockey won the Student Favourite Radio Presenter of the Year at the 2019 CBaze Awards.

Taking to social media to announce the news, an elated Andy Dosty wrote: "Yesssss.....we made it again. Thanx to God. I'm grateful to @cbazeawardsorg for the recognition. Truly it's been an award winning year. Thanx for voting me as your favorite radio presenter."


 

Take a listen to the confrontation below: