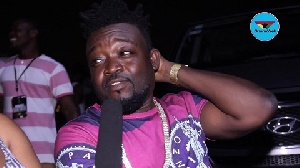 Thu, 22 Mar 2018 Source: Mercy Buabeng
Manager of the late Dancehall Artiste Ebony Reigns, Ricky Nana Agyeman, has furiously stated that anyone who believes in rumours making rounds that he and his team members are doing business with the death of the 90's Bad Gyal instead of mourning her is heartless.
The family of Ebony together with Ruff Town Records on Saturday unveiled three clothes for the final funeral rite of their beloved.

The clothes were named after her songs, 'Maame Hwe' and 'Aseda' and also there is going to be a concert which will be held at Trade Fair Centre on Friday, March 23, before her final burial on Saturday.

However, some comments circulating in the public that he seeks to make profit from Ebony's demise following their idea to charge a fee of GH¢10 at the gate on Friday.

Reacting to the comments during an interview with DJ Advicer on Happy FM's Ayekoo Drive, Ricky Nana Agyeman, who is popularly known in the music circles as 'Bullet', expounded on the reasons behind the whole event.

"…Ebony has always wanted to have a clothing line, you are being heartless if you say we are doing business with her death. Ebony is an artist so what is wrong with if an artiste you have a clothing line in her memory. If her fans want to buy then what is your problem, why should it be mourning… mourning… mourning? Bullet quizzed.
The exasperated Bullet indicated that he is not the first person to have done this for a late artiste.

"Ebony is a big artiste and there has been lot of big musicians in the likes of Michael Jackson and many more, so why are Ghanaians thinking this way? We are just doing all this in the memory of Ebony."

Born Priscilla Opoku Kwarteng, popularly known as Ebony died in a gory accident on the Sunyani-Kumasi highway while returning to Accra after visiting her mother in Sunyani in the Brong Ahafo Region.


Source: Mercy Buabeng