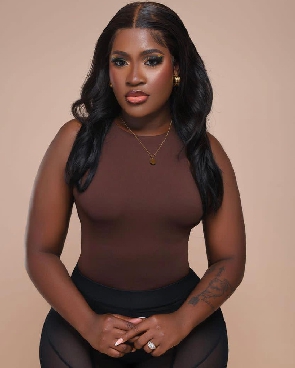 Fella Makafui, the spouse of Ghanaian rapper Medikal, has responded to a notorious Ghanaian internet troll who made disparaging comments about her marital life.
In a Twitter thread, the individual in question alleged that Medikal terminated the services of his former personal assistant, Flow Delly, upon discovering phone records that indicated a surreptitious relationship between Flow Delly and Fella.

Additionally, the troll said that Fella and Medikal's marriage was in disarray as a result of the couple's decision to stop wearing their wedding bands in public.

"Sources suggest that Medikal sacked Flow Delly after finding out thru phone records about his secret relationship with wife, Fella.

"Also, Fella Makafui has stopped describing herself as "Mr. Frimpong" as she stops putting on her ring. Medikal has done the same too.

"There's fire in the camp of Medikal and Fella Makafui with their marriage potentially falling apart. It's just a matter of time," he said.

In response to these accusations, Fella issued a retort, questioning the mental state of the troll with a simple "Are you mad?" query.
The troll further prodded Fella, seeking clarification on why she no longer referred to herself as Mrs. Frimpong and why she no longer wore her wedding ring.

This behaviour by the troll has garnered the censure of various social media users, who have condemned the individual for attempting to defame others.

Many have expressed a desire to see the troll held accountable for their actions in due course.


Sources suggest that Medikal sacked Flow Delly after finding out thru phone records about his secret relationship with wife, Fella. pic.twitter.com/7AIr06vCcv

— Albert Nat Hyde (@BongoIdeas) March 20, 2023
Are you mad ?

— Fella Precious Makafui (@fellamakafui_) March 21, 2023
Watch the latest episode of Talkertainment below:





ADA/BB