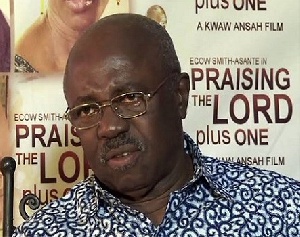 Sat, 21 Sep 2013 Source: Isaac Nuamah Yeboah- independentgh
Renowned and legendary Ghanaian film Director, Kwaw Ansah has urged the government and corporate Ghana to help improve the creative arts industry in the country by investing heavily in it.
Kwaw Ansah, who is an award-winning Ghanaian film-maker, whose work as a writer, director or producer includes "Love Brewed In an African Pot and Heritage Africa," said developed countries like the United States of America had become prosperous due to the value they placed on the arts industry.

Mr Ansah made the call when he was premiering his latest movie, "Praising The Lord Plus One," at the National Theatre recently.

According to him, Ghana stands a greater chance of developing at a faster rate if the government and other corporate entities see the need to invest in the creative industry.
The movie, which features the crème de la crème in our movie industry such as Ama K. Abebrese, Adjetey Anan (Pusher), Anima Amisa, Martin Owusu, Ekow Smith Asante amongst others, highlights how some charlatans have invaded the church, exploiting unsuspecting Christians in the country.

The premiere attracted big shots like former President J. A. Kufuor and his wife, Theresa Kufuor, Dzifa Gomashie, Deputy Minister for Tourism and Creative Arts, astute diplomat, KB Asante, Charles Palmer Buckle, Former Defense Minister, Kwame Addo Kufuor, Azumah Nelson, Kweku Sintim Misah (KSM) and Kabral Blay Amihere Jnr., Managing Director for The Independent Network Limited.
Source: Isaac Nuamah Yeboah- independentgh