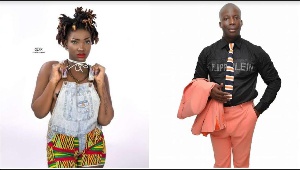 The hottest female artiste in the country at the moment, Ebony Reigns has finally replied Prophet Kumchacha after he indicated that he was going to bury Ebony's songs "Maame Hw3" and "Date Ur Fada" just as he did to the "One Corner" song by Ghana artiste Patapaa.
According to the man of God, Ebony's songs are demonic as a result they have brought a lot of curses upon Ghana.

However, Ebony Reigns in a post shared on her Facebook page replied all the nonsensical things the man of God said.

According to her, Prophet Kumchacha is a joker who calls himself a man of God, and moreover Jesus Christ never condemned anyone.
She further indicated the man of God has no power to bury her talents given to her by God.

" See some joker who calls himself a man of God.Even Jesus Christ didn't condemn; so who are you to bury a talent given to me by God? For ur information we just won artist of the year at the bass awards and maame hw3 hit 1.3 million in 2 weeks," Ebony replied.