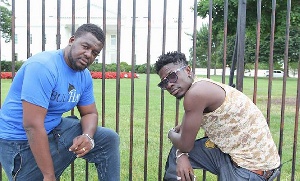 A former manager of Shatta Wale, Bulldog, believes the dancehall king's reaction towards the BET awards is borne out of pain.
The 'Chop Kiss' hit singer, in a post on Facebook mentioned that he is not bothered about BET snubbing him, adding that "money is calling him for his brain".

Coincidentally, in a post on Facebook, the artiste manager mentioned that the most precious things in life cannot be bought with money.

He posted: "The cheapest things in life are on sale… The most precious ones are invaluable and priceless… Those are earned and conferred unto man…No matter the wealth of a man, he can't afford respect and recognition… #GODyear #sikanhyira".

However, in an interview with KOD on the Zone, Bulldog said his post had nothing to do with Shatta Wale.
"Let me get things clear, it wasn't about Shatta Wale at all. For me most of the stuff I put out there people read a lot of meaning into it and I even did my post before I realize he (Shatta) had posted something on social media as well. I think it was just a coincidence."

Bulldog also indicated that Shatta Wale is behaving the way he is towards Stonebwoy's BET nomination out of pain.

"I think for me it is pain that is making him do that and it is wrong. And that's my problem with Artistes down here, if you look at Nigeria they are all supportive of each other and it is sad that we had just a slot at the BET but whoever it is we should be able to support everyone even if it was him Shatta Wale we all support him and same should be extended to Stonebwoy and nobody should hate, and say that because someone didn't do something or because they have issues with the person they will be writing all sorts of things about the person, it's not the best".