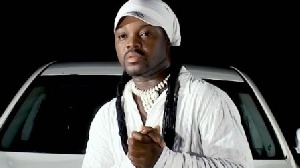 Thu, 12 Dec 2013 Source: Mustapha Ayinde Inusah
Over the week, there were rumours that controversial hiplife musician, Barima Sydney, had been invited by the Bureau of National Investigations (BNI) over the use of President John Mahama's image in his latest video clip which was yet to be released.
In a chat with Sydney, he told Flex newspaper that the official video of the music was not out, but rather they had taken a few seconds of the span of the video, to show it to critics through Whatsapp and other social media platform so they could take the critics view on it before its official release.

He said after they shared the short music video with friends, he saw an article by the 'Herald' and 'The informer' newspapers that, he had been invited by BNI and national security.

He lamented that from a close source, he fathomed that the article the newspapers did was a calculated attempt to influence the BNI and National security to call him so they could frustrate him from coming out with the official video and music.

In the video of the of the 'Donkomi' song, the President impressively dressed in fine 'fugu' with Barima Sydney, sitting beside him at the Flagstaff House, asking him probing questions about what people are saying on the streets of Accra concerning the allegations of corruption under his watch.
He stated that the song is just a wake – up call on the president and they are basically things that have already happened and things that people are saying on the street including some of the answers that the president has already given.

He cleared allegations he's a member of the NPP: "I have never come out to say I will always rally behind Nana Addo or NPP. What I said in 2012 was that I personally thought Nana Addo's messages made lots of sense to me than John Mahama's. Nana Addo was preaching free education while Mahama was preaching 'Ede bee Keke.'"

"In 2008, I did a song titled 'Oga Dey Chop Am' 'Chanfu Chanfu' and people said I was an NDC affiliate, so to me I think Ghanaians will always talk against some of us who want to do social and political music, to help the society," he added.
Source: Mustapha Ayinde Inusah