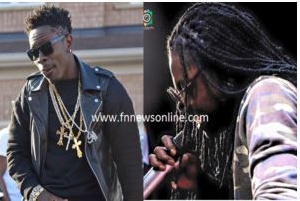 Shukura-based upcoming Dancehall artiste, Bastero, has just taken a quick whip at Dancehall King Shatta Wale on social media.
Bastero in his attempt to win the hearts of Ghanaians described the SM boss as a greedy leader who doesn't practice what he always preaches.

Rewind- it was reported that Shatta Wale and his SM Militants invaded the 'Loud in Shukura' stage while Bastero was on the stage to begin his performance. Left without any option, the young artiste had to leave the stage for the SM boss and his team to perform.

This action did not go down well with Bastero who quickly took to Facebook to slam Shatta Wale just to win the public sympathy.

In his Facebook post, Bastero categorically stated that this is not the first time Shatta Wale invaded his performance. According to him, the first one was at the Skybar.
Bastero according to many was harsh in attacking Shatta Wale on Facebook.

Here is what Bastero posted (Unedited);

"First, I'll say thanks to the whole #shukura for the love and support even when I couldn't perform after the #mic was handed over to me. this isn't the first time... ,you did the same thing to me @ #skybar I respected you as an elder and a leader but trust me it doesn't suit you anymore, I'm one of the youths who never thought of disrespecting you not to talk of doing a diss #song but you call for it believe me am not as cool as you think. pu**y. You said the youth got to raise so why do you fight we when we raising lol greediness at it best #bigshame #shattawale practice what you preach . The whole Shukura witnessed my sounds was set #mic was handed over to me you flopped me bcos you thought you would be a hero…(dem no stone you well) #bigtimesnitch kawaii #actiontym.. Anything ah anything."