Buying fake followers is nothing new on social media but it becomes quite pathetic and worrying when a well known celebrity is involved.
The media quantifies success on social media for public figures by the number of followers they have and therefore the more followers you have, the more relevant you look on the internet.

Again, brands like to associate themselves with celebrities who have a large following on social media to promote their products to a celebrity's followers. They pay these celebrities for endorsements so they can promote a message to their followers.

Kim Kardashian, for example, could earn $10,000 for a single Tweet to her network of 102 million followers. The volume of her Twitter following has an undoubtedly positive impact on her income.

But how much can we trust the number of followers a public figure has?

It has emerged that two popular Ghanaian musicians are hiding under the guise of fake followers on Instagram to deceive the populace.
The issue which was raised by renowned blogger Ameyaw Debrah caught EonlineGhana.Com's attention and we decided to do our own investigation.




As you can see from the screenshot above, Ameyaw accused a "certain" musician of buying followers who were mostly Turkish or Azerbaijani.

A quick search by EonlineGhana.Com on these accounts in the screenshot revealed that they had two artists in common, Becca and Kumi Guitar, who are all artists under Zylofon Media Music Group.

Below is the screenshot of the followers of Kumi Guitar who are mostly Turkish or Azerbaijani as Ameyaw Debrah described.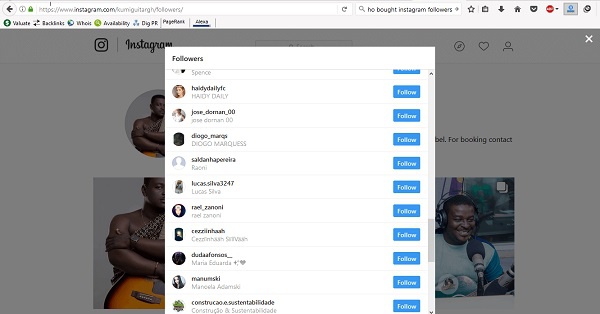 Interestingly, EonlineGhana.Com also noticed that even though Kumi had close to 100,000 followers, he was getting very little interactions on his posts. Most of his posts got 3 or no comments at all and the post likes were not very encouraging as well.

EonlineGhana.Com also noticed a similar trend for Rebecca Acheampong, popularly known as Becca.

One will expect that as an established artist with over a million likes on instagram, Becca should be getting more than 300 likes on her posts and definitely there should be more than zero comments as well.

But unfortunately, just like her colleague from Zylofon music, the "African Woman" singer was also getting very little or no interactions on instagram with most of her posts getting zero comments.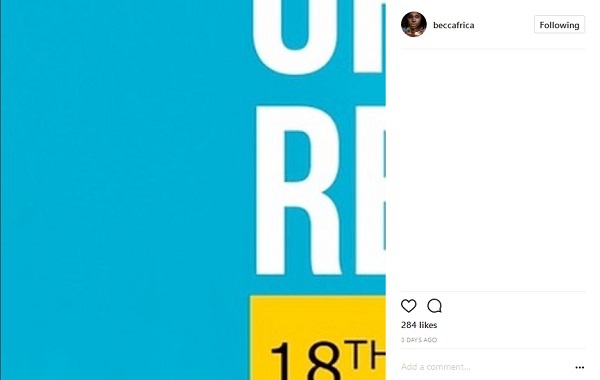 Even though Becca has some followers who are Ghanaians, it is virtually impossible to rule out the fact that she allegedly bought some additional fake followers to boost it — and obviously the seller sold her crap because these followers do not give a hoot about what she posts on her page.

We concluded that it's either Becca and Kumi Guitar's music has caught the attention of these Turkish or Azerbaijani people or they've simply bought fake followers — and we're forced to believe the latter because it seems more obvious.

Please note that we do not intend to put the image of these musicians into disrepute but we simply can't fathom with the idea why these well established artists are performing poorly on instagram especially for an artist like Becca who has a million followers.