Entertainment Tue, 16 Jan 2018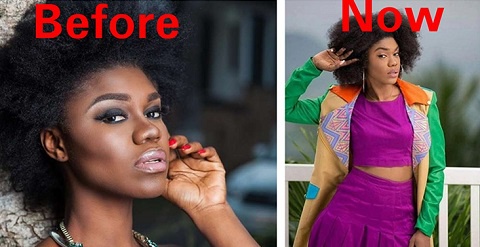 Award winning songstress, Rebecca Akosua Acheampong known on stage as Becca has been caught pants down after earlier discounting claims she was not bleaching.
In October last year, the "You Lied to Me " hitmaker on TV3 Newday said no chemical has been introduced to her skin and challenged the host of the show to take a photo of her after the show.

"Let me tell you something though, I have always done natural hair, I love my skin, I love me. There is no reason why I want to change to white. I am born in Africa and there is a reason why I am here in Africa and in Ghana and I love it. There are a lot of things people are saying about me and I am not deterred", she said.
The musician at the time mounted a spirited defense of her 'new complexion' blaming the camera and lighting in the studio for it but in another breadth revealed that other family members have light skin and trying to wash it over with the excuse that taking care of herself very well is what is making her skin fair.

New images making the rounds on social media reveal that she has actually joined the celebrity league and the more she has tried to explain the reason has ended up exposing her the more.