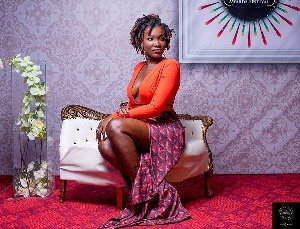 "I am sexy and crazy and I like to portray it. It's just the craft, it's just the kind of person I am and I know my fans are looking for something different, something crazy, something to go home talking about, that's what I end up giving them."—Ebony Reigns.
The late Ebony Reigns was in the news so many times mostly for her fashion sense, which many labelled as provocative, but that was not always the case.

There had definitely been times where the music star stunned in gorgeous styles, in her own fashion land and we must say she owned her style of dressing and fashion legacy.

Not only did she influence the dressing of most young girls, which was widely criticised, but we in the fashion community did admire her support for home-made gowns and African print designs.

Print Fashion

The '90's badgyal' as she was affectionately called, could be called the queen of Afrocentric fashion. She dazzled in ethereal African Print and we totally loved it. Her casual African print dress was a perfect Friday wear inspiration.

No wonder in an interview with Hitz FM in Accra, the manager of the late singer revealed that one of her dreams was to have a clothing line, 'Ntuma' (cloth) collection and the Ghana Textiles Printing Company (GTP) might just have made her lifetime dream come true by unveiling the 'Maame Hwe' and 'Aseda' cloths for her funeral which can be used for and at any ceremony.
Although her nudes were not widely accepted and stirred so much controversy, she was among the few celebrities who influenced fashion trends through the patronisation of Ghanaian fashion designs and styles.

We hope more people will follow her steps and join in giving support to the fashion industry just as she did.

On this note, we at the fashion community of Ghana wish her sound rest as the Ebony Reigns music and fashion legacy continues to reign.

Click "PHOTOS" for more .