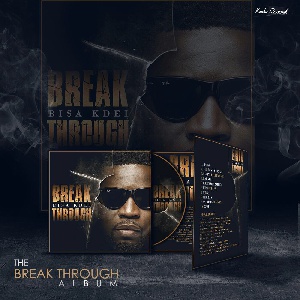 Few days from now, the second studio album by Bisa Kdei titled Breakthrough will be made available to the public.
The album which is set to be released on 18th December 2015 contains 10 songs, including the reigning Mansa and Brother Brother.

Management of the artiste, Black Legendary Music has finally released the album art and track-list for the Breakthrough album and on the album has collaborations between Bisa Kdei and other top musicians in Ghana.

Names of musicians on the list of Breakthrough album include Obrafour, who is a feature on a song called Samina (Soap), followed by a song titled Fire with Efya as a feature and lastly, Samini, who collaborated with Bisa Kdei on a song dubbed 6-Strings.

There will be a Press Launch of Breakthrough album inside Gold Coast Bar and Restaurant located in West Airport (on the Exel Lounge/Club 45 property), Accra.

Below are the track list for the BreakThrough album…

Mansa (Prod by Bisa Kdei & Mixed by Kaywa)
2 – You Don't Know Me (Prod by Mikespro)

3 – Samina (Prod by Yesss Rudeboi)

4 – Kakap3 (Prod by Bisa Kdei)

5 – Brother Brother (Prod by Bisa Kdei)

6 – Fire ft Efya (Prod by Bisa Kdei)

7 – M0br0 (Prod by Bisa Kdei)
8 – Bra Bisa (Prod by Bisa Kdei)

9 – 6 Strings (Prod by Bisa Kdei)

10 – Sweet (Prod by Bisa Kdei)

Make sure to grab a copy of the album and your days of entertainment will from now be a memorable one.