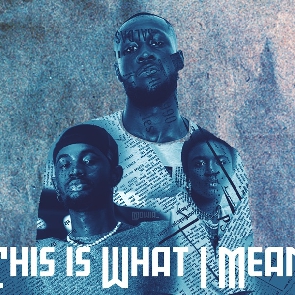 Ghanaian musicians Stormzy, Black Sherif, and Amaarae have had their voices featured in an upcoming action movie on Netflix.
The highly anticipated film, titled 'Heart of Stone,' boasts an ensemble cast that includes renowned actors; Gal Gadot, Jamie Dornan, and Alia Bhatt, promising an unforgettable cinematic experience.

Netflix recently announced on Twitter that 'Heart of Stone' is set to premiere on August 11, 2023, generating excitement among fans worldwide.

One of the film's standout features is the incorporation of Stormzy's chart-topping hit song, 'This Is What I Mean,' into its electrifying soundtrack.

The inclusion of 'This Is What I Mean' in 'Heart of Stone' demonstrates the movie's dedication to creating an immersive and captivating narrative.

Stormzy's infectious energy, combined with the song's powerful lyrics, perfectly complements the high-octane nature of the film, creating a synergy that will resonate with audiences globally.

For Black Sherif and Amaarae, this opportunity represents a significant milestone in their respective careers.
Both artistes have been making waves in the music industry, captivating listeners with their unique styles and distinctive voices.

Being featured in 'Heart of Stone' further solidifies their artistic prowess and offers them a platform to showcase their talents to a broader audience.

As the release date approaches, Ghanaians' anticipation continues to build for the action-packed 'Heart of Stone' and the exciting collaboration between Stormzy, Black Sherif, and Amaarae.

Viewers can look forward to an extraordinary cinematic experience enriched by the fusion of outstanding musical talent and compelling storytelling.


Gal Gadot, Jamie Dornan & Alia Bhatt just took the #TUDUM stage to exclusively debut the trailer of Heart of Stone, their action-packed new film! pic.twitter.com/0dFeCLpnrK

— Netflix (@netflix) June 17, 2023
Watch the latest episode of Nkommo Wo Ho and E-Forum on GhanaWeb TV here:








ADA/FNOQ