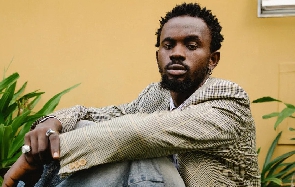 Ghanaian media personality, Ola Michael, has asked Black Sherif's team to pay close attention to his mental health and assist him accordingly.
His comments were in reaction to Sherif's recent viral video, where he disclosed that his mind has not been at peace because attacks on his life have intensified.

Earlier, the musician was captured in a confused state, narrating how his enemies are scheming to 'slash his throat'.

"I've been at war, I've been growing my hair, I've been running, I've been recording, I've been talking to my mum and dad. There's been a lot going on. When it's all said and done, everybody go hear am.

"No one is excluded. People who have pestered me before, others have chased me and want to slash my throat. People dey chase my throat, dey want slash am! On God! (speaks pijin)," he stated in the said TikTok live.

But after keenly observing Black Sherif's statements and mannerisms in the said video, Ola Michael has expressed intense worry.
He strongly believes that there's a silent 'cry for help' captured in his submissions.

"I am a bit worried. Sometimes when artistes don't talk much, they have a lot up their sleeves. When I saw this particular video, I was a bit concerned about what is going on in his mind, what he is going through, and what people are doing to him. I was wondering how life is treating him.

"His success probably came suddenly and he has been running with it since, so maybe, he is not ready for it. I think those close to him should find him someone to help him with therapy. His thoughts need to be straightened. We all did not even understand what he was trying to say in the video, we are all confused but he knows what he is saying. He had a lot to say but he was unable to communicate it well," he said.

Watch the video below:


Click here to start the nomination process for the 2023 GhanaWeb Excellence Awards

Ghana's leading digital news platform, GhanaWeb, in conjunction with the Korle-Bu Teaching Hospital, is embarking on an aggressive campaign which is geared towards ensuring that parliament passes comprehensive legislation to guide organ harvesting, organ donation, and organ transplantation in the country.





EB/NOQ