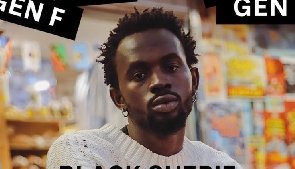 Black Sherif was not arrested but was only asked to assist with investigations into an allegation unjustly levelled against him, according to a self-acclaimed eyewitness to the bizzare incident that happened at the Kotoka International Airport (KIA) on Wednesday, July 19, 2023.
Frank, not his real name, spoke to Class News' Prince Benjamin (PB), Thursday, July 20, stressing that the Black Sherif was questioned in the presence of "his team and lawyers".

Background

A Ghanaian-owned entertainment brand Cruise People Limited (Your Cruise People) has accused Gold Digga hitmaker Mohammed Ismail Sherif Kwaku Frimpong, alias Black Sherif, of defrauding them.

According to the Cruise People, it booked Sherif to perform at the second edition of its Afro Cruise Jam aboard a cruise ship in Greece. According to the company, a fee of US$40,000 was agreed on – the parties being Cruise People, artiste and artiste's booking agency identified as United Talent Agency, alias Echo Location Talent Agency.

Half of the fee was also agreed upon as advance payment to agent and artiste, according to Cruise People, and paid to a reported London bank account belonging to the artiste.

The point of contention, however, according to Cruise People Ltd is that as part of the agreement, the artiste was to supposed record a promotional video indicating his performance at Afro Cruise Jam 2023 to enhance patron anticipation and marketing.

In addition, he was to also attend a promotional interview secured with Multimedia Group, Ghana, to highlight the said event and his performance again to garner patronage.

Cruise People alleges that Sherif did neither. It has, thus, accused the beloved singer-songwriter and rapper of a breach of contract and even, further, fraud.
"Basically, the complainant approached our booking agent that he wants to book us for a cruise event in Greece," Frank narrated.

No London Bank Account

He refuted the claim that money was sent to Black Sherif's account in London.

"He doesn't have any account in London," he said. "It's just the agency. That is the professional standard that all talents go through."

He explained that the agency that represented Blacko in this matter represents stars like "Central Cee, Burna Boy, Travis and them lots".

The Friction

He categorically stated that "per the agreement, he was booked to perform" but "there was no mention of submission of videos and press schedule… in the deliverables on the contract."

A "fee of US$40,000 was agreed upon," he said, confirming also that there was an advance payment of "US$20,000" made.
"So in a twist of events, this man came and requested that we have to do a video because he's going to do a press launch," he added.

He noted this displeased Black Sherif's agents in London.

"You know how White people are," he said, insinuating that Whites follow contracts as is professional unlike locals.

He said when Sherif's agents proved unwilling to grant the request because it was not part of the signed contract, "the complainant" threatened to sue them.

This amused the London-based agents, Frank intimated, because "they have more lawyers than any other talent agency in this world. They can handle any conflict…"

At this juncture, Frank added, "when he realised they called his bluff, he decided to vent his anger" on Sherif and his team.

Attempted Resolution

The source said when the agent observed that the event organiser "was becoming a menace," and wanted to avoid "bad press for Blacko – one of their hottest talents from Africa," so, they elected to return the US$20,000 advance booking payment, even though "in standard practice, they are even supposed to take their [full] fee because you've wasted their time".
Noting that the show is slated for August 29, 2023, he revealed "this guy said he's not going to take US$20,000 [anymore] but now he wants US$50,000 – meanwhile you're the one breaching the contract!"

Police Involvement

After the agency disregarded his demands, Frank said, "he now came to Ghana to lodge a complaint that Blacko has defrauded him and has breached a contract" between them.

At this point, he revealed the event organiser "is a Ghanaian guy".

The source took issue with the media reporting Black Sherif was arrested at the airport.

"You know we were outside the country," he said, adding: "So they issued that when he comes [back] he has to be invited for questioning."

According to Frank, Sherif's team was getting ready to disperse to their various locations in the city when the artiste was invited to answer some questions – in the trending video, the artiste is seen being ushered into a van at KIA, Airport City.

He recalled Sherif laughed "at a point" at how ridiculous the situation was "until they said we had to go to the CID headquarters and all that".
The police did not mention anything to Sherif at the airport until he reached the Criminal Investigations Department (CID) headquarters where the fraud allegations were revealed and explained to him, Frank noted.

Update

He categorically stated Black Sherif "is home" at the moment.

"He wasn't arrested like how [it's been reported]. He just had to give an account of what happened," he added.

He emphasised that Black Sherif is unshaken and "not bothered" and "in any case," the matter should be between the London-based agency United Talent Agency and the event organiser, Cruise People Limited.