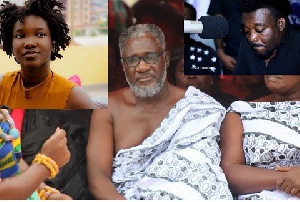 Nana Opoku Kwarteng, father of the late dancehall diva, Ebony Reigns, has said he knows the killers of his daughter.
Nana Opoku Kwarteng, in a report sighted by YEN.com.gh on Kasapaonline is accusing Ebony's management, Rufftown Records, led by Bullet as his daughter's killers.

According to Nana Opoku Kwarteng who has been making several wild allegations after the burial of his daughter, Bullet and his team failed woefully to effectively manage his daughter.

This, he claimed, caused Ebony's accident which could have been prevented. Nana Opoku Kwarteng opined that Rufftown Records should have stopped Ebony from embarking on that deadly journey but it did not.

According to him, Ebony management team's failure to monitor her movement was a clear negligence on their part because as a management, they should have done all they could to stop her from embarking on that journey.

He is reported to have said that though he is grateful to Bullet and his team for bringing out Ebony's talent, he still blames them for negligence with his daughter.
"Nana Hemaa (Ebony) travelled very late in the night when Bullet (her manager) was abroad, according to him. A good management team handling a 21-year-old superstar should have taken good care of her."

"Somebody should have been with her on that journey, somebody should have corrected her as she shouldn't have made that journey on her own."

"That is proper management, Ghanaians take things too easy. There's more to the word management, I'm not being ungrateful but management should not be only about the music aspect of the artiste," Nana Opoku Kwarteng said.

But YEN.com.gh has reported earlier Ebony's last conversation with his assistant manager, Allen Anti, in which she insisted on traveling late that night.

In an interview monitored by YEN.com.gh on GHONE, Allen stated that Ebony had called him late in the evening on Wednesday February 7, 2018, to inform him of her journey to the Northern Region.
Allen said he tried all he could to get Ebony to change her mind over the trip, but she insisted on having her way. Allen revealed that he immediately called sound engineer Kaywa on the phone to get Ebony to rescind her decision on embarking on that journey, but she still refused.

It could be recalled also that Ebony's father maintained that the Jeep which got involved in the accident, the driver, and late soldier who died with Ebony were her official driver and bodyguard.

Meanwhile, Ebony's management team, also maintained that they did not know about the driver and the bodyguard as claimed by the father.

Therefore, Nana Poku's latest claim about his daughter's killers is something that many people would receive with shock. Meanwhile, at the just ended VGMA, Ebony swept four awards, which were received by her father and the management team led by Bullet.