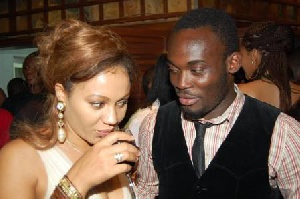 Pretty Ghanaian actress Nadia Buari daughter of Alhaji Sidiku Buari, immediate past president of the umbrella body for musicians in Ghana, Musicians Union of Ghana (MUSIGA), has added yet another career to the résumé of achievements she has chalked in her educational development.
Nadia, who is currently the new face of 'Devon', has successfully completed the law school and been called to the bar. The maiden recipient of the "Showbiz Honours" has already taken up some sensitive cases and has so far not lost any case in court.

Nadia is gradually becoming a household name and the first young female Celebrity Barrister. But how long can she hold on to this fate and achievements and perhaps go farther, as she is about to confront the biggest case of murder and drug trafficking against a presidential candidate.

This is the plot of new movie "Trinity" jointly produced by two major production houses Gupado Films and Marhills Production, producers of thrilling Ghana/Nigeria movie "Shakira" which featured Nigerian Sensation Mercy Johnson.

Nadia, who in recent times play roles around cocaine and drug trafficking, is Barrister Navida in "Trinity". "Trinity" is based on typical African governance full of greed, selfishness, corruption and neglect for the masses that put them in power. The result of which is several years of heartbreaking, poverty, diseases and civil unrest. In the movie, aspiring Presidential candidate, Macoy Yeboah played by Kofi Adjorlolo, is close to clinching the highest political power of the land, yet a looming criminal case of corruption, murder and drug trafficking is hanging around his neck with famous Barrister Naveda Daniels (Nadia Buari) in charge. This becomes an eminent threat to his political ambition.
With the influence of money and power, Naveda's husband and fellow Barrister, Dan (Majid Michel) assists Macoy Yeboah to set Barrister Naveda Daniels up, with the murder of another female lawyer Valentine Ayew (Lucky Lawson). Barrister Naveda finds herself on the other side of the law as a murder suspect, betrayed by her most trusted husband, Barrister Dan.

She is in a fix, she has not lost a case in court before, and she has a daughter to take off. Can she be able to sail through this one or she is about to lose her first and everything else to a greedy politician? The 120 minutes new movie "Trinity" has all the answers.

The movie also features: Kalsum Sinare, Ekow Smith Asante, Roseline Ngizzah, Gavivina Tamakloe, Eddy Nartey, and introducing five year old promising actress Imogen Hogg who played Barrister Naveda's daughter.

Trinity premieres at the Silverbird Cinema on Thursday July 1, 2010 at 6pm and 8:30pm. It will also show at the same times on subsequent nights. All stars in the movie will be available for interviews, autographs and photo opportunities.